This software was made by Cook. This software is very major soft. Date for about 10 minutes preserve as one figure. For 1 day, we can get 135 files. The file size is much smaller than HROFFT. It is about 8KB-10KB. So, the data for a day is put in a Floppy Disk. The following figure is the data by Chigusa High School. Central line is the direct wave. Because the position of Chigusa High School(the receiving set) is less than 100km from Sabae-city(the transmitting station).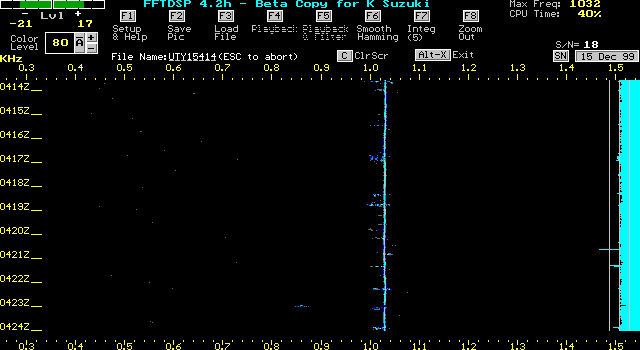 The file size of this figure is about 9KB.
Basically, the way of analyzing is the same of HROFFT. But the time scale is lengthwise direction. So, signal of meteor become a horizontal line. The following figure is explanation of data.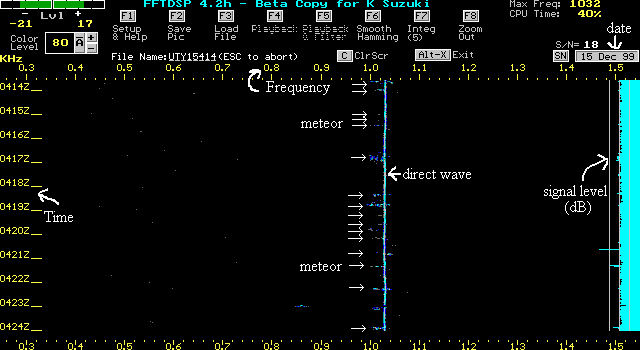 <Attention of FFTDSP4>
The file name is like "UT101000.gif". Don't mind "UT",please. Next "1" is month. But October, November, December do not become 10, 11, 12. So, these month signs are"y"(the miss of program ?). And next "01" is day. The final "000" is 0:00. But, from 10:00 to 23:00, 10 is "a" , 11 is "b"…… and 23 is "n" . For example, if the file name is "UT2223c50", this meaning is "February 23rd 12:50".
Also, the long echoes can be seen like the following figure. At Chigusa High School, echo which keeps more than 10 seconds is long echo. because of the surrounding environment of radio wave is bad.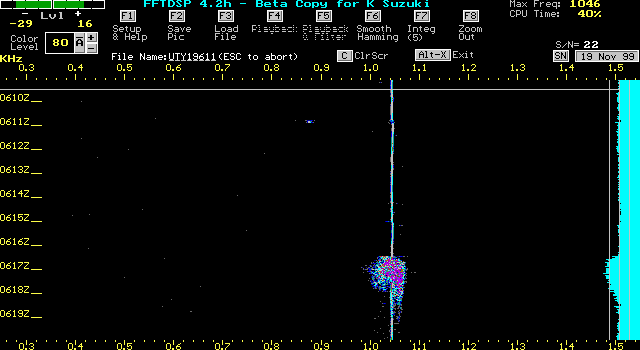 In addition, when activity of the sun is active. Sporadic-E, radio noise or interference occur. When these occur, we can't observe.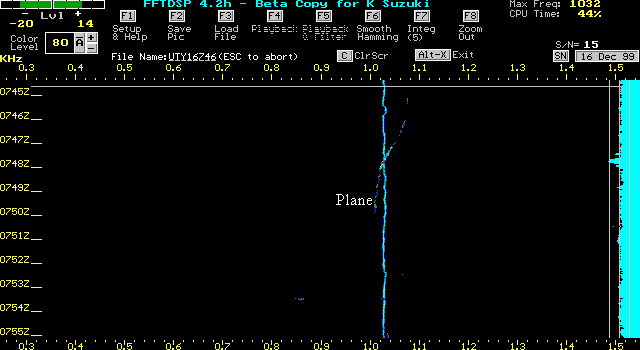 ---